Tim Downey
Graveside Oration to Tim Downey
A dhaoine uaisle, táimid bailithe anseo inniu ar ócáid bhrónach chun omós a thabhairt do Thadhg O Dunai. Fuair Tadhg bás obann ar an Deardaoin. Bhi sé tar éis an baile a shúil. Chuir sé cúpla punt ar na capaill. Chuaigh sé abhaile. Shuigh sé sios agus fuiar sé bás gan fústar a chur ar éinne. Sin mar a chaith sé a shaol. Dhein sé a chuid oibre go proifisiúnta agus nior lorg sé riomh na cinnlinte. Tá sé tabhachtach go labhróinn as gaeilge inniu mar bhi grá ag Tadhg do gach rud gaelach – a thir agus a theanga.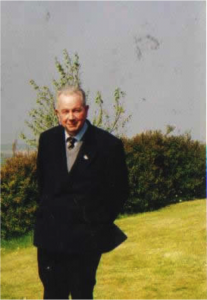 Tim was born in 1928 – the year Clon were promoted to Intermediate Hurling and Football. He lived with his parents and two sisters Rita and Mary and brother Paddy in O'Rahilly Street. During the thirties, Clon football was on the crest of a wave – winning Junior, Intermediate and Senior County Championships. Growing up in that atmosphere, it was no wonder, young Tim Downey was attracted to his local GAA Club. Any talk about Tadhg O Dúnai has to involve the GAA. It was his life and he loved it.
In his playing days, Tim was no mean performer in both codes. In 1946 he was selected wing forward on the Cork Minor Football team which drew with Kerry but lost the replay. He played a lot of senior football in the forties and fifties winning himself three County Medals. Hurling was his first love, however, and he gave many fine displays at corner forward in the forties and fifties. In 1950, he scored 4 – 2 in the West Cork final against a tough Courcey Rovers backline. In 52, he showed his early leadership qualities when he captained the team to the title.
Towards the end of his playing career, Tim became involved in refereeing. He was a referee of the highest quality and was respected by all. It was as an administrator and club official that Tim will be remembered most. He took over as Secretary in 1960 during a controversial time in the club. His original appointment was for 6 months. He acted as Secretary to Clon GAA Club for 31 years and an excellent one at that. When Tim took over in 1960, there was a substantial debt in the Club because of the development of the present playing pitch, which was made of the pound field and the marsh. At the 1967 A.G.M., it was announced that the debt of £8,000 had been cleared.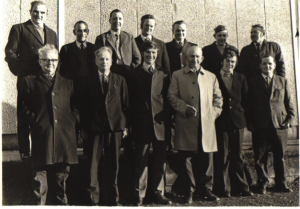 Tim was a man of great vision. In his 1969 Secretary's report – he wrote – "The players of today want games and more games and it is our duty as administrators to provide proper dressing rooms and other recreational facilities. The carrying out of this policy will I know place a greater burden on the shoulders of already overworked administrators, but if we of today are to be worthy successors of the men who made our association, then we must be prepared for the sacrifices demanded of us." He was referring to the building of a new clubhouse and dressing rooms. In 1970, the new Clubhouse was opened at a cost of £9,000. In 1971 – Seanie Crowley the then Chairman of the West Cork Board stated: "In the matter of providing modern facilities, one club has put the rest to shame. I refer to Clonakilty, who during the year opened a magnificent pavilion with the most up to date facilities. Where Clonakilty leads, others must follow". During all this time, matters on the playing field were not being neglected. Tim was a selector and trained minor teams in the 60's, which won 4 West Cork minor titles in a row. A senior County was contested in '68. Tim was also a selector in the successful hurling teams of the late seventies and early eighties. He served as a Carbery selector as well for a number of years.
In the eighties, Tim was not finished with development. The structure built in the 70's was considered outdated. A plan was drawn up to build a new modern clubhouse and Tim Downey was again the man to sign the contract in '87 for a new £220,000 development.
Some people wonder why Tim never got married. He didn't have time. He spent his life apart from work going to Club meetings, S.W. Board meetings, GPC meetings, Co. Board meetings, Bord na nOg meetings, picking teams, making telephone calls, organising Bingo, dealing with correspondence, refereeing, marking pitches, putting up nets, selling tickets at gates, organising concerts and scór competitions.
One of Tim's great traits was his optimism. When all others saw doom and gloom, Tim saw hope and a future. When Clon teams came home after suffering a hopeless defeat, he would quickly select one or two incidents which could have changed the result. Rectify these faults and they will win the next day – he would say.
Tim's greatest characteristic was his integrity. He was a member of the West Cork Board GPC for many years. He was so highly thought of by the Clubs in the division that he was elected unopposed every time. During his time as Rúnai over a thirty year period, no player of doubtful legality was ever played. In gate returns to Co. Board, and West Cork Board, all monies had to match tickets sold. If, by chance, there was more money than tickets sold, Tim would tear up further tickets to ensure the process was carried out honestly. If it wasn't fair and honest, it wasn't done while Tim was Secretary. Tim spent his life working as stock controller in Deasy's Bottling store and he applied the same standards of honesty and integrity there as he did in his G.A.A. life. Tim was a man of strong religious beliefs and deep faith. I remember when the first application for a liquour licence for the new Clubhouse was being sought before the courts, it involved the Club Secretary swearing on oath that the licensing laws would be upheld i.e. that there would be no after hours drinking etc. Tim refused to take the stand on the basis that he could not in conscience swear on the Bible about something which he knew in his heart and soul would be disregarded regularly. An alternative officer had to be found quickly.
Tim spent his life working for the GAA. He was a highly intelligent man who was held in high esteem by all who knew him at Club, West Cork Board or County Board level. He was an expert on G.A.A. rules and procedures and his views were sought regularly when matters needed clarifying. He was always progressive in his thinking and was looking forward, with some nostalgia perhaps, to the sale of the grounds, which he bought and developed, and the development of the new pitches and facilities at Ahamilla. Little did he think in the 60's that the grounds he developed for £8,000 would be selling for millions in 2005.
As we say our final farewell to Tadhg O Dúnai, it is important that we recognise the huge positive contribution he made to many generations of Clonakilty families. Aithnimid sin a Thadhg agus táimid fior bhuioch diot. His passing is a huge loss to the people of Clonakilty and the GAA Community. All of us who knew and worked with him were the richer for that experience and we are much the poorer for his passing. The greatest loss, however, will be felt by his sisters Rita and Mary, his nieces Maighread and Carol and nephews Jim, Denis and John. We extend our sincerest sympathy to you on this sad occasion.
Bhi sé de phribhléid agamsa aithne a bheith agam ar an bhfear seo le triocha cúig bliain. Ba chara maith é. Duine macánta ionraic abea é freisin. Dhein sé a dhicheall dá bhaile, dá Chontae, agus dá thir. Tá leaba tuillte aige I bhFlaitheas Dé.
Ar dheis lámh Dé go raibh a anam dhilis.
as read by Sean O'Brien, former Cathaoirleach 5th November 2005