Clonakilty Camogie Club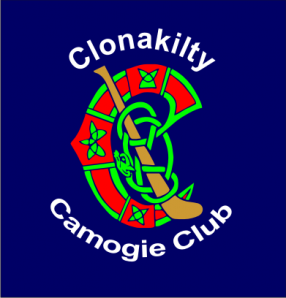 U14 Camogie
The U14 Girls from Clonakilty Camogie Club travelled to Barryroe to take on the locals in County league. This is a very tallented group and even though they lost out in the end, they competed well throughout the game. Indeed the half time score of Clon 0-1 to Barryroe 0-2 shows the closeness of the exchanges. However as the saying goes, "Goals Wins Matches" and it was the local girls produced the goods in the second half to run out winners on the scoreline Clon 1-2 Barryroe 5-2. Squad: Abby Wycherley,Aiesha Hurley,Bronagh Deasy,Chloe Allman,Ciara Deasy,Clodagh Murphy,Edel Hayes,Eimear Walsh,Elise Crowley,Ellen O'Hea,Helen Hegarthy,Kate Callaghan,Kiya O'Mahony,Leah Geaney,Leah McAree,Sarah Lowney,Shannon O'Gorman,Sinead Coleman,Tola Ni Shullebhain.
Senior B Win
The Senior girls hosted Aghabullogue on Easter Monday evening in their second outing in the League. Having shared the spoils in their previous game with K/T, the squad were hoping to get a win under their belts. The early exchanges were fairly even but the Clon girls over came the challenge to run out winners at the final whistle. Next up will be Fr. O'Neills when they come to Ahamilla on 10th May. That will leave just one league game to play against Eire Og and it should prove to be the girls toughest test. However, given the improvement shown over the last few weeks, the girls should be up to the challenge.
Camogie League
The Senior Girls got their League campaign off on a positive note when they travelled to Kilbrittain to take on the locals. Kilbrittain/Timoleague girls showed more composure early on and having already played one League game, this was to be expected. However the Clonakilty girls slowly but surley began to impose presence and stayed in touch, Half time score K/T 1-5 Clonakilty -3. Both teams enjoyed periods of dominance during a frantic 2nd half with K/T hitting the Clon girls with a sucker punch mid way through the half when they found the net. The Clon girls plugged away and with more and more confidance creeping into their play, they themselves found the net. With more and more pressure now being applied in the oppositions half, Clonakilty had plenty opportunities and were able to eventually close the gap to come away with a well deserved draw.
One satisfying aspect of this game was the fact that 22 players presented, and with possibly 6-8 players to return, there is a genuine optimism about the season ahead. The majority of the squad are already up and running with the Ladies Football and so many more benefitting from the experience of winning an All Ireland Hockey Cup, the tallent is there to challenge for major honours this season. Training continues on Wed evening 7 to 8 and our next outing is on Easter Monday at 5pm in Ahamilla against Aghabullogue. New members are always welcome and with such large numbers playing at underage level it would be great to continue that trend right through the Club. Squad; Anna O'Hea,Aoife O'Neill,Aileen McCarthy,Anne Campbell,Beulah McManus,Cliodhna O'Regan,Caroline Dullea,Ciara Nagle,Hazel O'Regan,Juanita Brennan (1-2) ,Kate Hurley,Louise Collins,Niamh Desmond-Collins,Niamh Deasy,Niamh O'Donovan,Nicola O'Donovan,Rebecca McAree,Rosemary Dullea,Sinead O'Donovan,Sinead O'Neill(capt)(1-4) ,Sinead O'Brien.
Anyone interested in becoming involved either as a player or just to help out please contact any of the following;
John O'Donovan (Chairman)086-8189567
Paudie O'Donovan (Vice Chairman) 087-2216146
Anthony Murphy (Secretary) 087-2227977
Mary Harrington (Treasurer) 087-6357770
Winning Start
The U18 Girls of Clon/St.Colums had a well deserved winning start to their League campaign. They defeated St. Catherines on a score of 3-7 to 2-8 in Ballynoe on Sunday morning last. Forced to play 11 a-side due to retirements, 2 players on Football duty and 2 out sick, the panel of players who travelled were experienced and hugely tallented. The team also lined out without Cork midfield star Libby Coppinger. St.Catherines started strongly scoring 1-1 within 10min of the start and 10min later were 1-4 to nil ahead. Clon/St.Colums found it hard to deliver ball into their forwards due to a strong breeze and playing against a slight slope. However, 5min before the break, Kate Hurley who was playing her first ever Camogie game scored the first of her sides 3 goals. Half time score 1-4 to 1-1. With the wind behind them and playing with the advantage of the slope, the girls started the second half in superb fashion, pushing forward at every oppertunity and keeping the inside forwards very busy. The pressure paid off when midfielder Louise Collins opened with a well taken point from a 45. Almost straight away Rosemary Dullea added an excellent point from play and with the opposition now finding it hard to get beyond the half way line, more scores were to follow. Ciara Ryan was having a great game at wing forward and contributed 1-3 in that second half. Mary Hurley was again outstanding in goal and got good protection from Becky Harrington and Kaladh O'Sullivan. The half backs of Hazel Harrington and Meabdh Deasy both played well but really came into their own in the second half. The midfield partnership of Louise Collins and Rosemary Dullea really turned on the style in the second half and would be a match for anyone. The flying half forwards Ciara Ryan and Orla Lowney tormented the St.Catherines defence at every oppertunity and inside Maggie Coppinger and Kate Hurley battled hard for every ball that came their way. Squad; Mary Hurley,Kaladh O'Sullivan,Becky Harrington,Hazel Harrington,Meabdh Deasy,Louise Collins (2),Rosemary Dullea(1-1),Ciara Ryan(1-4),Orla Lowney,Kate Hurley(-1),Maggie Coppinger.
The Girls next outing is V Bishopstown at home and this game will be played in Kealkil next Sunday 23rd at 12. Support would be greatly appreciated.
Camogie Girls on Cork Teams
Clonakilty Camogie is well represented on County teams and this is a huge boost to everyone in the Club. We are all very proud and send our congratulations and best wishes to the following;
Ciara Ryan and Sarah Hayes who play with Cork U16 Ladies Football team in the Munster Final on Sat 26th. Both girls play Camogie at U16 for Clon & U18 with Clon/St.Colums.
Libby Coppinger who plays with Clon/St.Colums and hopes to break into the Clon Senior team later this summer, has made the No.8 jersey her own on the Cork Minor Camogie team. Libby will feature at midfield in the All-Ireland Final on Sat 26th April in Kilmallock when Limerick provide the opposition.
On the Cork Senior squad, Hazel O'Regan is this year joined by Sinead O'Neill. Both girls are well established on the Cork Senior B team which has reached the National League B Final due to be played over the May Bank Holiday Weekend. Hazel also features on the Senior A panel who play Clare in the A League semi-final this Sat as a curtain raiser to the Minor Final.
So our girls are going to be busy this coming weekend and support would be very much appreciated.
Also in action in the Minor Final will be Barryroe's Clare Sexton and Meabdh Sexton, Kilbrittain/Timleague's Aine Crowley and Caroline Murphy.
We wish all the girls the very best for the upcoming games.
Senior Camogie
A depleted squad made their debut in the 2013 Senior B league on Sat 27th April in Ahamilla against Aghabullogue. Not much room for adjustments as only 15 players were available for this fixture. However the lack in quantity was more than compensated for by the quality of the performance, resulting in a 3-16 to 0-01 win for the Clon girls. It must be noted that the opposition were very much depleted as well and fielded a very young team however the score of 3-16 still had to be put on the scoreboard. Everyone in the Clon camp were very pleased with the performance and look forward to our next game against Eire Og on Monday 6th May at 7pm in Ahamilla. Everyone in the Clonakilty camp are well aware that greater tests lay ahead but judgeing by this performance the girls are ready to meet any upcoming challenge.
Squad; Aileen McCarthy,Aine O'Leary,Anna O'Hea,Anne Campbell,Beulah McManus,Ciara Nagle,Cliodhna O'Regan,Hazel O'Regan,Juanita Brennan,Lisa Kemp,Niamh O'Donovan,Nicola O'Donovan,Sinead O'Brien,Sinead O'Neill,Susie Forristal.